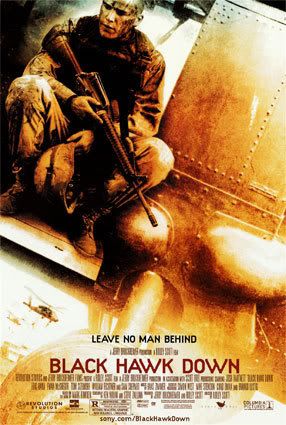 I was watching

Black Hawk Down

over at the cable channel (AXN, ch19) for the 6th (or more, I lost count) times tonight. Incidentally, I did not see it at the big screen because during the screening then, I was not into war movies, and I thought it was just another war movie. But after seeing it (less than a year or so later) on DVD, I was hooked onto it.

The movie got me into it mainly due to actors that I could recognise (eg Ewan McGregor, Orlando Bloom, Eric Bana, etc), the cold reality of war portrayed, it being based on the novel, which is in turn based on a true story, and the overall story and characters. If you have not seen it, please do pick it up and have a look. It is a good movie.

Near the end of the movie, there were 2 songs that captured my attention. One was played when the rest of the pack was running back to the U.N. camp, and the other was played during the end credits. The former is called

Gortoz a ran - J'Attends

, and the latter

Minstrel Boy

.

An emotionally stirring and inspirational song, The

Minstrel Boy

was written by Thomas Moore (1779-1852) who set it to the melody of The Moreen, and old Irish aire. It is believed by many that Moore composed the song as a memorial to several of his friends he had met while a student at Trinity College and who had participated in the 1798 rebellion of the United Irishmen. One died in prison, another was wounded, and a third captured and hung. The song originally consisted of two verses. Due to its popularity, the song was a favorite of the many Irishmen who fought during the U.S. Civil War, primarily on the Union side. Original article can be found here.

Buy the soundtrack, and listen to them. Both are very nice songs. Lyrics to

Minstrel Boy

:

The Minstrel Boy to the war is gone
In the ranks of death you will find him;
His father's sword he hath girded on,
And his wild harp slung behind him;
"Land of Song!" said the warrior bard,
"Tho' all the world betrays thee,
One sword, at least, thy rights shall guard,
One faithful harp shall praise thee!"

The Minstrel fell! But the foeman's chain
Could not bring that proud soul under;
The harp he lov'd ne'er spoke again,
For he tore its chords asunder;
And said "No chains shall sully thee,
Thou soul of love and brav'ry!
Thy songs were made for the pure and free,
They shall never sound in slavery!"