Finally, Kinokuniya Singapore announced its public 20% storewide discount on Sunday, but only for a limited 2 day period. I was scanning through the Sunday papers, and did not notice until I saw it in the Chinese edition. It was then already too late for me to go on Sunday, so I had to make another trip on Monday (which is the last day) to the Orchard branch to get the books I had been holding out for so long.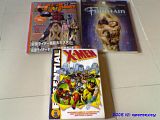 From the top left,

HyperHobby

December 2006 edition, Graphic Novel

The Fountain

and trade paperback

Essential X-men Volume 1

.

I bought

HH

for a coupon for a magazine exclusive mailaway Medicom RAH DX Kamen Rider No.2 (old version), which TFH will help process for its members.



The Fountain

is a movie adaptation of the same name, starring Huge Jackman (this guy is everywhere), about the fountain of youth. It is illustrated by Kent Williams, one of my favourite comic artists (reason why I picked it up).



Essential X-men vol.1

collects some Uncanny X-men story which I read in some UK comic magazines I bought ages ago. The story arc was illustrated by John Bryne, and I was simply amazed by the black and white artwork then. So I had to pick it up for the complete story. But I think John Bryne's artwork now is not as good as what he had done during those days.

I was also contemplating to get

Frank Cho's Women

,

Halo

GN (hardcover which I did not really fancy), IDW's

Popbot Vol2

or

Popbot Collection

(a tpb of Vol1 and 2), but my wallet said "Woah, buddy. That's enough for today. Any more and I'll self combust.
"